How To Gain Financial Freedom By Blogging With WordPress
If you've found your way to this blog post then chances are you are the kind of person who has ambition and knows they want to have a life bigger than the one they're living. Feeling stuck in a job, where someone else controls your day, and having your financial well-being held ransom to the whims of an employer can be a frustrating place to be. The only way to find your way out of that cycle is to start doing side-hustles in your off hours. This can be tricky to do though if you're side hustle requires you to be physically located somewhere outside your home. Who wants to put in a full day of work, just to leave the first job and go to a second job? Better to find a way to bring in some extra cash without needing to leave the house.
Blogging has given many people the ability to generate extra income in their free time. And that extra income can afford you the opportunity to eat better, dress better, take more vacations, or maybe even just save for early retirement. It's perfectly conceivable that you could make some good side-money if you can find the right niche to blog about. There are some people that do so well by blogging with WordPress that they're able to quit their day job. Don't believe me? Check out some of these income reports that popular bloggers have posted.
Monthly Income Reports of Popular Blogs
Of course those are some of the big hitters. Most blogs are lucky to make any money at all. But with some dedication, a good niche topic, an understanding of how to target your content and a good campaign strategy, it's possible for anyone to make some cash blogging.
So let's explore how easy it is to get started blogging.
Picking a Niche
The first step in creating a blog is to choose your niche. Your niche can be anything you want it to be, but from experience I can tell you that it's important to pick a niche that you're passionate about. You're going to be spending a lot of time writing about this niche, and if it's not something you enjoy then you will get burnt out quickly.
You want to pick a niche that's relatively narrow, and mostly importantly, solves a problem for the reader. If you're naturally an active person who loves working out and learning about fitness and nutrition, then maybe you'd want to start a fitness blog. But how would you make yourself stand out from the thousands upon thousands of fitness blogs already in the blogosphere? You would find a niche within the fitness space that you can see yourself dominating. For example, if you are into martial arts, and you're into yoga, you could blend the two and create a "Yoga for the Martial Artist" site. This idea meets a few criteria:
It's a specific niche within the broader topic of fitness.
If you're passionate about both Yoga and Martial Arts then you will be able to write about it consistently over time.
It solves a problem for people in Martial Arts, in that it helps them with fitness and flexibility.
And that's all there is to picking a niche. This post won't get too deep in the weeds about all aspects of creating a blog, but it is important to choose a niche wisely. Once you have a niche, you just have to decide on the name of your blog, choose a domain name, and set up WordPress on a hosting provider.
Click here to get a blog started on Interserver. User Coupon Code: "SAVEBIG" to get your first month of hosting for $.01
How To Start a WordPress Blog on Interserver
Interserver is an excellent hosting provider to host your blog on. If you're new to blogging you may not know what a hosting provider does. A hosting provider is a company that hosts your WordPress blog on their servers so the world can read it. There are many good hosting providers out there, but I personally like Interserver. I've tried a half dozen or so hosting providers over my years of blogging, and Interserver has been the best for site performance. Interserver has also had the best customer service that I've seen so far, and to me that's the most important thing to look for in a hosting provider. Their support staff has always been very prompt in responding to and resolving issues.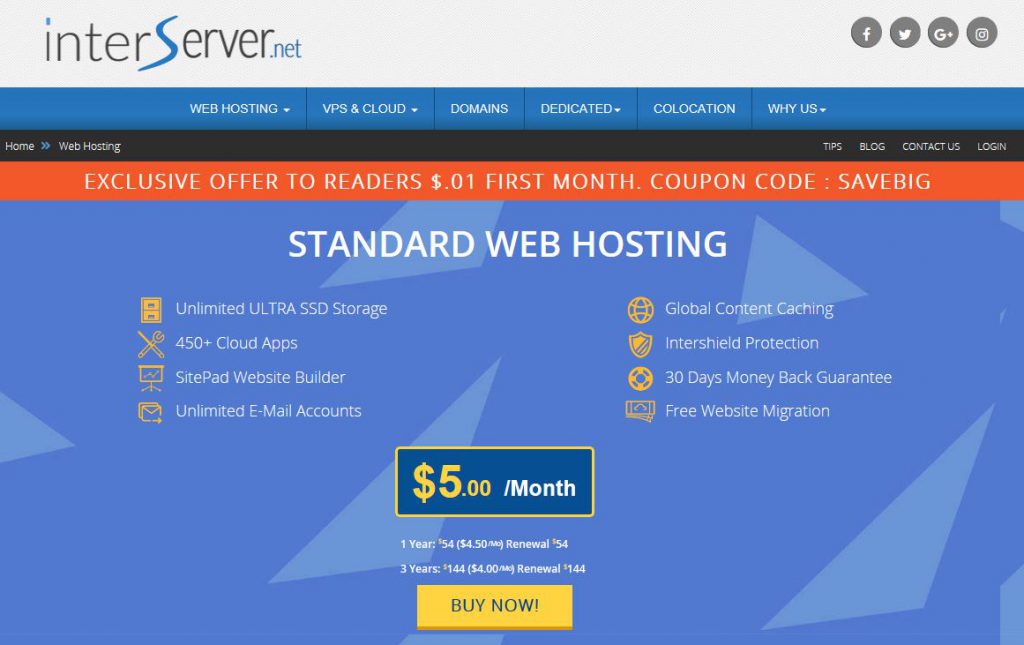 1. Register Your Domain Name
The first step in setting up your WordPress blog on Interserver is to register your domain name. Your domain name is the address that people type into the browser to get to your site, so make sure to pick one that fits the name of your site, isn't too long, and is easy to remember.
Currently at Interserver you can get a domain for $1.99 for the first year when you also purchase a web hosting package.

2. Buy Hosting from Interserver
The next step is to choose a hosting package from Interserver. If you're new to blogging, then chances are a standard shared web-hosting plan is all you'll need to get started. Hosting at Interserver is cheap, only $5.00 a month (with the first month for $.01 if you use the coupon code "SAVEBIG"). There's a lot of technical jargon on Interserver's site about their hosting packages, but here are the important parts if you're just getting started:
Buying a basic hosting package gives you a simple tool to install WordPress on your new domain.
Unlimited storage space.
Unlimited data transfer.
Free CDN (this becomes important as you optimize your wordpress site).
Weekly backups.
Unlimited Email Addresses.
Control Panel access to manage your site.
You might be asking yourself "Why pay for hosting when you can sign up for a blog for free?" Well, there are actually many reasons to pay for hosting rather than go for a free a blogging platform. For starters a free blogging platform is less professional, and advertisers may be reluctant to work with you because of that. Also, since it's a free platform, you may suffer performance issues once you've reached just a small number of readers. I've even heard stories of people's blogs being deleted by their free hosting service. Better to start off with a paid hosting plan right away. It's more scalable, so when your blog grows, your hosting can grow with it.
3. Install WordPress
Interserver makes it easy to install WordPress on your site. They use a piece of software called Softaculous to handle all the installation and set up for you. Once you have your hosting package purchased, you simply follow these steps:
a) Log into cPanel and choose Softaculous

b) Click on WordPress

c) Install WordPress
That's the basic set up. From there you can choose your theme, add plug-ins, write posts, create pages, and do all the other things you would want to do with a WordPress blog. Interserver has excellent customer support, and well written "knowledge base articles", so when you sign up with them you'll have all the help you need to get started.
4. Find Affiliate Programs
Once you have a blog set up, and you have started to fill it with content, you'll want to start exploring various affiliate programs. An affiliate program is a marketing strategy that companies use to enable you, a content creator, to get a cut of any sale that is made when a reader clicks on a link on your blog. For example, Amazon has an affiliate program where you add a link to a product on your site with a special code embedded in it, and if a user clicks on that link and buys that product, then you earn a commission. A couple of other websites that allow you to link to affiliate products include Commission Junction and ThinkGeek. A quick google search will reveal many other affiliate networks online. A fuller explanation of affiliate marketing is outside the scope of this article, but just understand that this is one way to earn money from your blog.
That's it, pretty simple, right? The sooner you get stared blogging, the sooner you can create great content, build a loyal reader base, and start working your way towards a passive income stream to supplement, and perhaps replace your day job. It's hard to live a jet-setting lifestyle if you're stuck in the 9 to 5 grind, so why not take steps to free yourself right now?
Don't forget to use coupon code "SAVEBIG" when you sign up for WordPress hosting at Interserver to get the first month of hosting for $.01.