Self Publish a Book Using Amazon and KDP
Did you know that you can publish your own hard copy and digital books using services provided by Amazon? A few years back I wanted to get a couple of books published, and that's when I learned about self-publishing.
During the pre-planning phase of book writing I was researching channels of publication. Traditional publishing seemed like an arduous task. I thought that it would take a while to find a publisher to pick up my books, and wasn't too sure how much promotional help I would get from them if they did pick it up.
I wanted to have control over my book's content, and distribution. So I dug around until I found out that I could use CreateSpace to self publish a hard copy version of my book, and that they also would generate an e-book version of my manuscript.
CreateSpace is no longer in the publishing game. They've moved their services over to Amazon KDP (Kindle Direct Publishing). Fortunately for us the services at KDP mirror what was available at CreateSpace so it's still possible to publish print-on-demand copies of our books.
Here are just a few steps to get started self-publishing a book via KDP.
Goto https://kdp.amazon.com and sign in with your Amazon account. If you don't have an account you'll need to create one.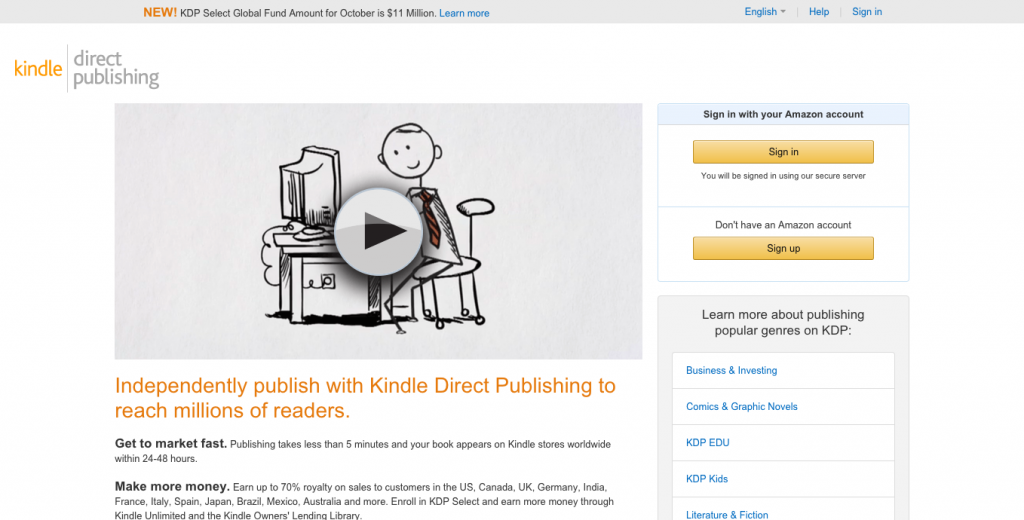 Choose to create a new title. In my case I wanted both a paperback version and an electronic version of my books, so I started with the paperback title.

In the next screen you will be able to enter you paperback details, book name, author, description, category, etc. One important step is to let them know that you have the publishing rights to the book, so be sure to select that radion button.
Enter your book's title, and sub-title if applicable.

Enter the author information.

Enter a description of your book. This step is important as it helps your readers know what your book is about when searching on Amazon.

Tell Amazon that you have the publishing rights for this book.

Choose categories that your book should be listed in.

There are more details to fill out but that will get you started.
Through KDP you'll have the option to upload a book cover, or use their Cover Creator tool to generate one for your book. I think it's worth checking out https://www.fiverr.com/ to have someone create something eye-catching for your book. I had a friend of mine design my book covers. He did a great job and I think the covers help the books really stand out.
After you upload your cover you'll be asked to upload your book. It's actually relatively simple to self-publish through KDP, but I will offer one tip to save you a TON of time when uploading your book. KDP offers manuscript templates in Word format that you can download from the KDP Tools and Resources page. (If you have trouble accessing that link just search for KDP content creation tools on Google and you should find it.) The best thing to do is to download one of those Word templates in the size of the book that you're planning on publishing, and do your writing directly in that template. If you've already written your book it might be worth your time to transfer it to one of those templates. The reason why you might want to do this is because KDP gives you the option to convert your book to Kindle format, and if you start with one of their Word templates it will make that process much smoother. When I wrote my first book I did it in Word, converted to PDF and tried to upload it that way. This not only didn't work, but because I didn't use one of their Word templates initially, when it came time to convert to electronic format my chapters weren't recognized, and the formatting of the book in general was WAY off. Best to just start with one of the provided templates.
You'll also need to set a price for you book. Important to note that Amazon will take a cut of the price of your book to cover their printing and advertising fees. When I initially set my books up on CreateSpace the pricing page let me know how much that would be, I then determined how much profit I wanted to make on top of that and set my price accordingly. CreateSpace also provide an ISBN for me, and I expect that KDP will do the same.
If you enjoy writing then self-publishing can be a nice side hustle. You could take any hobby that you know a lot about and turn that information into a book to sell. It is really nice to see money deposited in my bank account each month from books I wrote years ago. It's not a lot of money, but it is true "passive income" at this point.
If you do choose to write and self-publish a book (or books) then I would also highly recommend starting a blog. A blog is a good way to advertise your books. Blogs provide an easy way to keep pushing content out to readers. When selling any product (in this case self-published books), advertising is an important aspect, and a blog is a a good way to consistently push out fresh content to keep your products in the search results of search engines. If you are interested in getting a blog started, check out my blog post "How To Gain Financial Freedom By Blogging With WordPress"