Easy Ways to Make Awesome Margaritas
I'm guilty of spending money going out to eat simply because I'm craving a mixed drink that a restaurant may be particularly good at making. And I have the craving often. Several times a week.
This is costly. Untenable. Potentially bankruptcy level dangerous.
So I'm on a quest to learn how to perfect my favorite mixed drinks at home. It's currently summer time where I live, and what goes well with sunshine and warm weather? Margaritas.
Not any margarita. The high fructose corn syrup laden mixes blended with cheap tequila frozen into a daiquiri-esque abomination is NOT what I'm looking for.
I crave high quality, sweet and tart, proper margaritas.
I have spent the past few weeks (and too much money) trying different recipes online of the popular "Cadillac Margarita" variety. I was having trouble getting it dialed in the way that I liked, so I recruited the help of a couple of friends. One who has years of experience working in bars and restaurants, and the other who is considered the resident tequila expert in our circle.
Here are two different recipes that we settled on.
The first one is a bit like a high quality, restaurant style Cadillac Margarita. It's got a refreshingly sweet and slightly sour flavor, and due to the amount of high quality mixer that is added, it makes for a fresh tasting, drinkable margarita.
Cadillac Margarita made with "mixer"
Ingredients:
2 ounces of quality Reposado Tequila
2 ounces of Stirrings Margarita Mix
1 fresh squeezed lime
1 ounce of Grand Marnier
Mix them all together, serve with plenty of ice in a rocks glass. The general rule of thumb with this recipe is 1 part tequila, 1 part mix, 1 part lime, 1/2 part Grand Marnier. So if you pour 1.5 ounces of Tequila, then pour 1.5 ounces of mix, and 3/4 ounce of Grand Marnier. Change up ratios depending on how much tequila you start with.
Cadillac Margarita made with fresh limes
Ingredients:
1.5 – 2 ounces of quality Reposado Tequilla
1 fresh squeezed lime
3/4 ounce of Grand Marnier
Optional: 1/2 – 3/4 ounce of Simple Syrup or Agave Syrup
As above, mix them all together, serve with plenty of ice in a rocks glass. The trick with this one is to use fresh squeezed lime. I made the mistake of making many of the first margaritas I tried with organic lime juice from a bottle. This made for a bitter margarita. As my buddy says "lime goes with anything, you can practically throw out all your other spices if you have good limes, so you use fresh limes, not that bottled crap". He also mentioned that the oil of the skin of the lime has a great floral smell, so you can take the skin from one of the squeezed limes and rub it over the rim of the drink for extra flavor. If you happen to use too much lime in your drink you can balance out the bitterness with a little Simple Syrup or Agave Syrup. I prefer this recipe as it has more of a "quality cocktail" flavor than the first recipe, but they're both delicious.
I don't salt the rim. I don't understand why people enjoy salted rims for margaritas.
One thing I noticed is that if I didn't shake it with ice prior to serving then I needed to let the ice melt a bit in the margarita to really open up the flavor. Waiting for the ice to melt slightly not only makes the drink colder, but something about it helps to bring the ingredients together.
I use a Double Jigger to measure the ingredients. The one I have is 2 ounces on one side, and 1 ounce on the other. But there are other sizes available so be careful when doing your measurements this way. As long as you remember that one side is half the size of the other size then you can dial in the ratios of the ingredients correctly.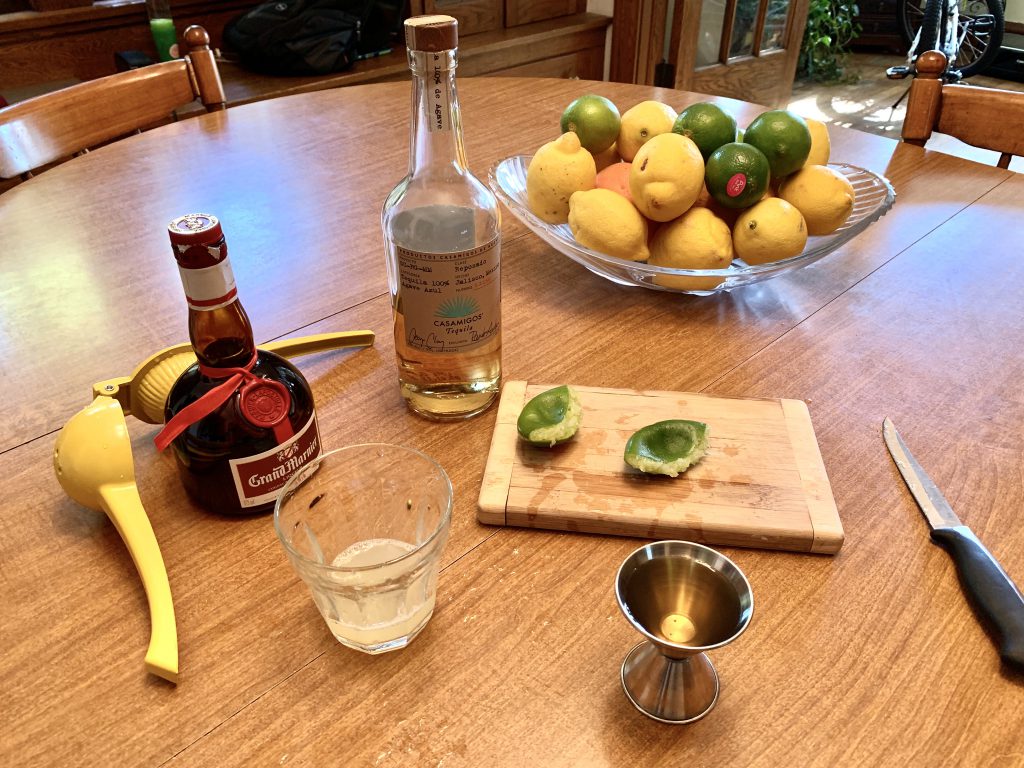 As far as which brand of tequila to use, that is up to your taste. But you'll want to stick with a Reposado. Blanco is a little light on flavor to make a really good margarita, and Anejo, though delicious, is a bit too smooth in my opinion for a margarita. Reposado is perfect because it's aged in oak barrels so it has a complex flavor, but it's not aged for so long that it loses it's alcohol kick. I have used both Suavecito's Reposado and Casamigo's Reposado. They're both very good. Suavecito tastes a little smoother and sweeter than Casamigo to me, but I prefer Casamigo because it has a bit more of an alcohol finish, which brings out the tequila flavor nicely when mixed.
I spent many evenings experimenting with different margarita recipes in order to come up with these, for science of course… I'm happy with the way they came out. Easy and quick to make, rich in flavor, and perfect for summer. Enjoy.