2019 Gibson SG '61 Standard
I've been on a quest for a double humbucker, "neck through the body" type guitar for quite a few years. As a Fender player I've been very happy with playing Strats and Teles, but I have needed to add a more hot humbucker sound to my collection.
This quest has taken me down some interesting paths over the years. I've mostly been trying to find a good Les Paul, because a good sounding Les Paul is what I thought I was looking for. Of the many recordings of Les Pauls and YouTube reviews I was pretty sure I'd be happy with that tone. I've bought and sold a few Les Pauls searching for the right one, but just haven't been able to find a Les Paul that suits me. The body shape seems a little uncomfortable to play, and I haven't been able to really dial in the tone I'm looking for with my amp and effects.
I've tried playing Paul Reed Smiths. I owned one for a while, and it was a great guitar. Beautifully crafted and sounded amazing. I really didn't have any complaints about that guitar, but it just didn't seem to get THAT tone that I was looking for.
I bought an SG Standard a few years ago (not the '61, just a "regular" standard) and I couldn't get that to sound the way I wanted either.
I even bought a Fender Select Telecaster with two coil tapped Wide Range humbuckers hoping that would get me where I wanted. That guitar is a killer guitar, and is still in my collection, but it's still not THE sound that I'm trying to get.
Recently I had bought last year's 2019 Les Paul Traditional (the model released before the Gibson re-org). I thought I'd give a Les Paul another shot. I got it home, and it was almost right. It had some very complex, nuanced tones, crisp highs, warm lows, and sounded great when dialing back the volume to work with some subtle distortion. But I couldn't get it to drive into high gain territory like I wanted. So back it went.
I've been watching Gibson this year closely. Their new CEO, James Curleigh, had claimed that he was bringing more quality control into the Gibson factories, and doing away with the gimmicky guitar upgrades to bring the classic vibe back to the lineup. This was intriguing and I think anyone who follows Gibson was apprehensively excited about the potential change.
When they released the new, "post re-organization" 2019 lineup (I think they're calling them the "original series") I decided to go back and give them a try. I went to a few local guitar stores, and ended up at Sam Ash, as they had the largest selection of Gibsons in the area.
I had always wanted to try the '61 SG, and they had a few models available. As soon as I plugged in the '61 and started playing I knew almost immediately that it was coming home with me. It was one of those guitar experiences we all hope for, instant bonding and inspired playing right on the showroom floor.
The tone is warm, woody, and mid-rangy in a way that you can tell would cut through a mix. I've heard Les Pauls And SGs referred to as "Tele's on steroids" over the years, and never got that analogy until I played this one. The notes are kind of "spanky" in a sort of Fender way, but with the 61R and 61T humbuckers they get into high gain territory when driven hard. The high gain sounds are nicely balanced. I can hear every note in a chord when playing rhythm, and the notes blossom when playing leads. That kind of "bloom" when plucking a single note is reminiscent of a Fender, but again with more gain and power behind it.
The guitar is really, really comfortable to play. Something about the thinness of the body, the shape, and how the neck is moved slightly to the left makes for a well balanced instrument when sitting down. Standing with a strap it is also extremely well balanced. I was a little nervous about playing it standing up, as many people mentioned that SG's tend to be neck heavy, but honestly I've experienced no issues with neck dive. The guitar hangs comfortably in the perfect position for standing and playing.
Apparently these guitars are run through a Plek Machine. The set up on this guitar is immaculate out of the box. It plays amazingly well, and the intonation is spot on. The fretwork is super smooth and the neck in general is a real joy to play on. I will say that when I first got it I had to stretch the strings quite a bit to get them to stay in tune, but now it stays in tune really well. It came stock with 10 gauge strings and I think that is the right gauge for this guitar.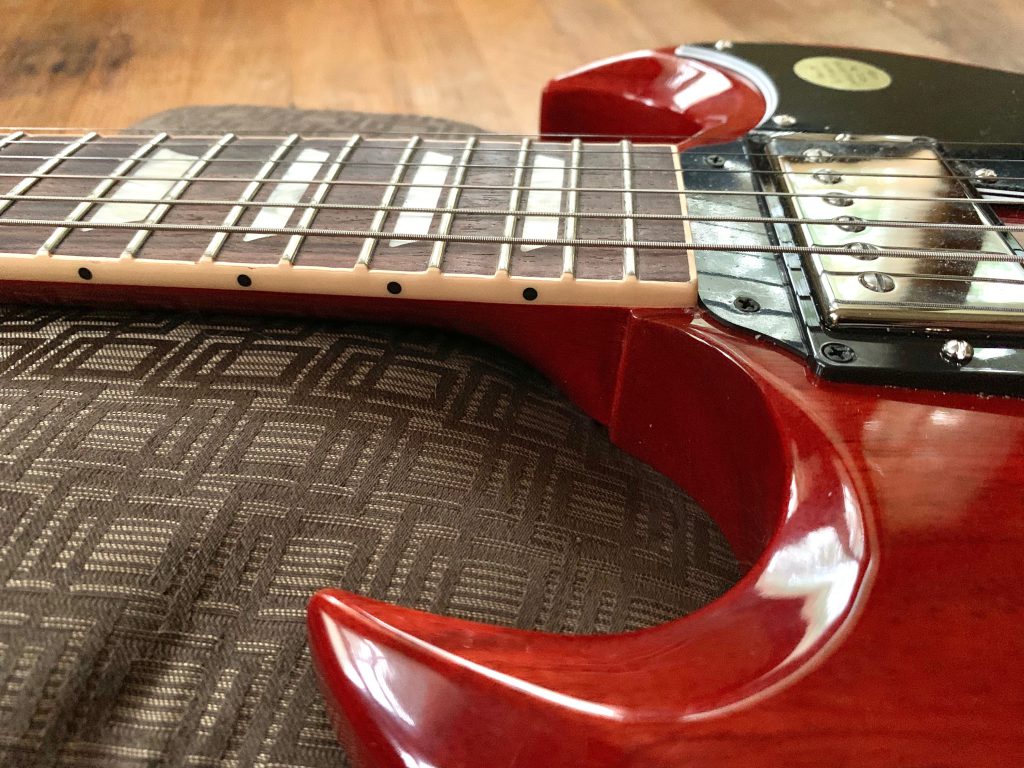 It came with an ABR bridge (though as users have pointed out on YouTube it may not be a true, traditional style ABR, but I don't care about that if it does it's job). I don't know much about the ABR bridge, but I know others are excited about it, and I guess it adds to the sustain of the instrument? If anybody has more info I'd be happy to learn more about this.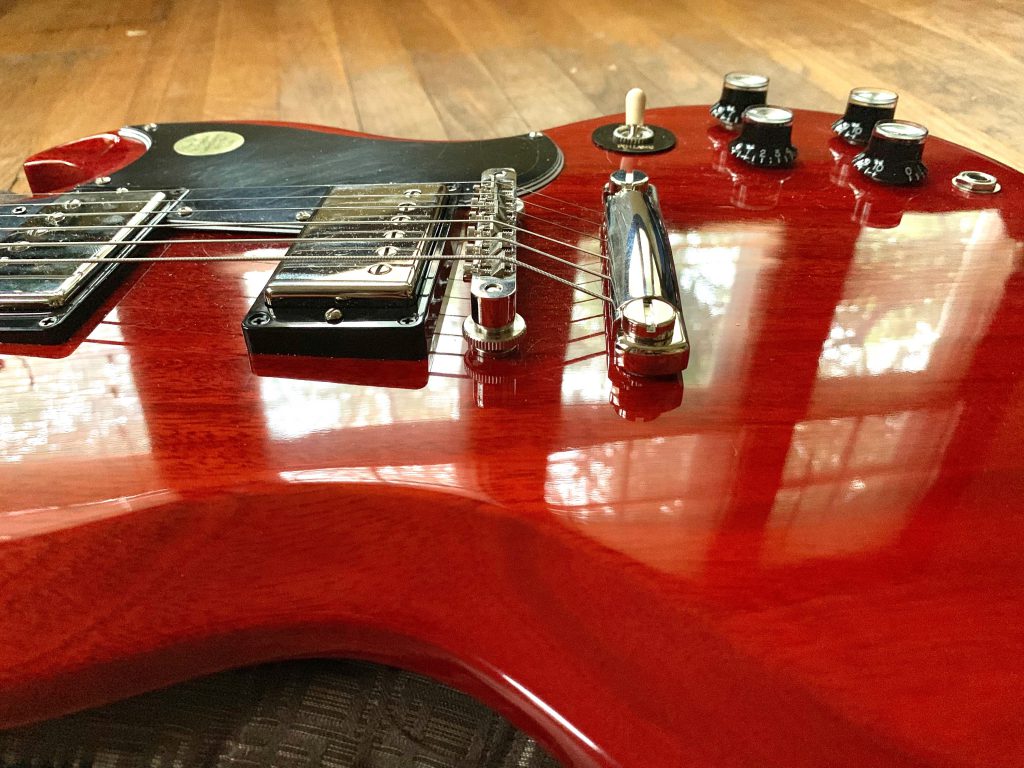 I'm happy that they put the Vintage Keystone tuners on this guitar. They get the job done and in my opinion are the right vibe for this guitar.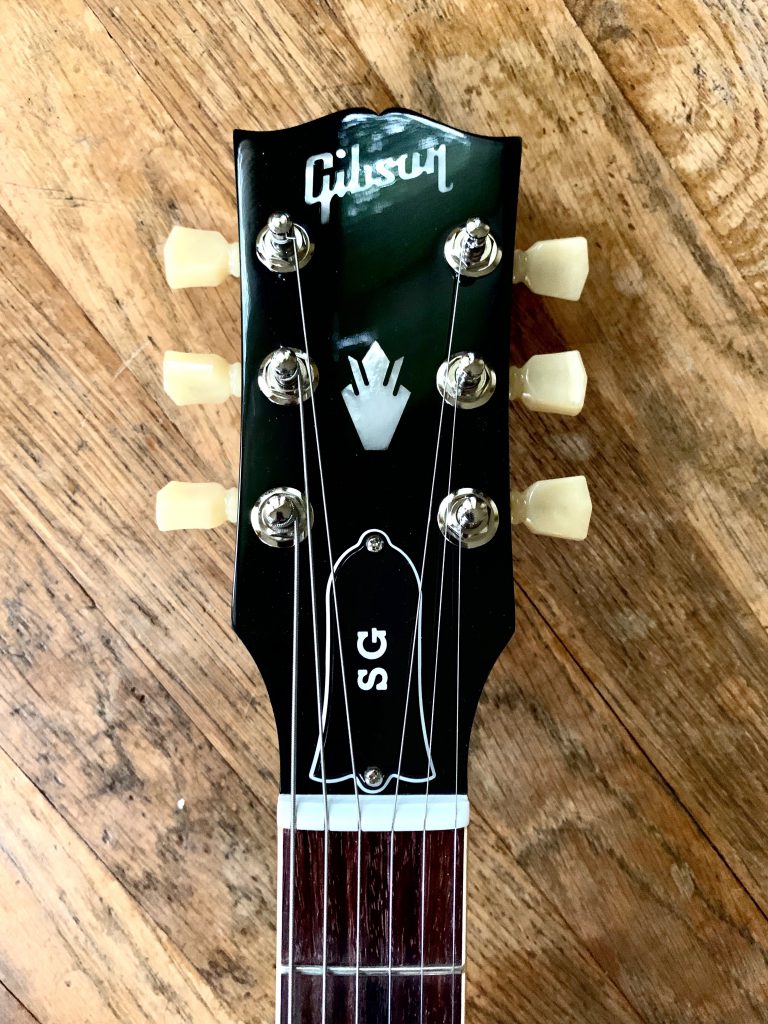 It came with a hardshell case, and the case looks really cool. The case included fun case candy (Gibson multi-tool, "baby picture" of the guitar on the bench in the factory, guitar strap, and some paperwork), but if I have any complaints about this purchase it would be with the case. It doesn't seem all that sturdy, especially compared to what Fender gives with their guitars. The case that came with this SG sort of didn't fit the SG, so I had to push the guitar down when putting it in the case to get the case to kind of stretch around the guitar. The top of the case didn't quite fit either. I have to sort of pull the top over to where the latches are to get it to latch. This led to the case getting a little tear in the outside cover within a day as shown here: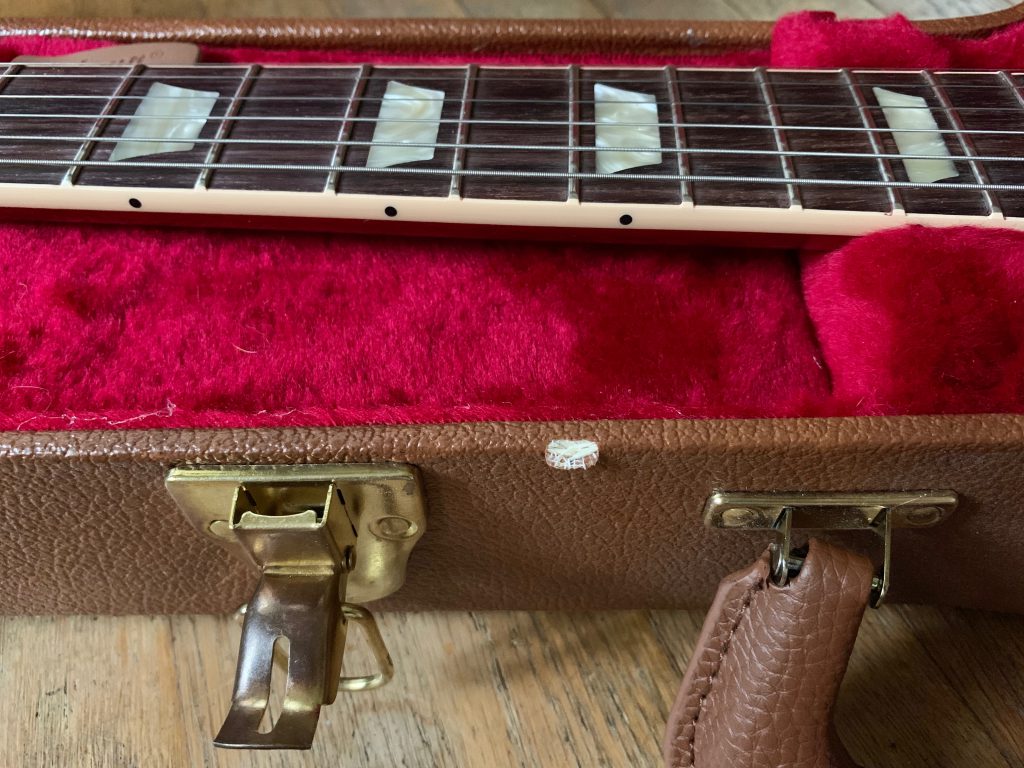 Like I said earlier, it does look cool though: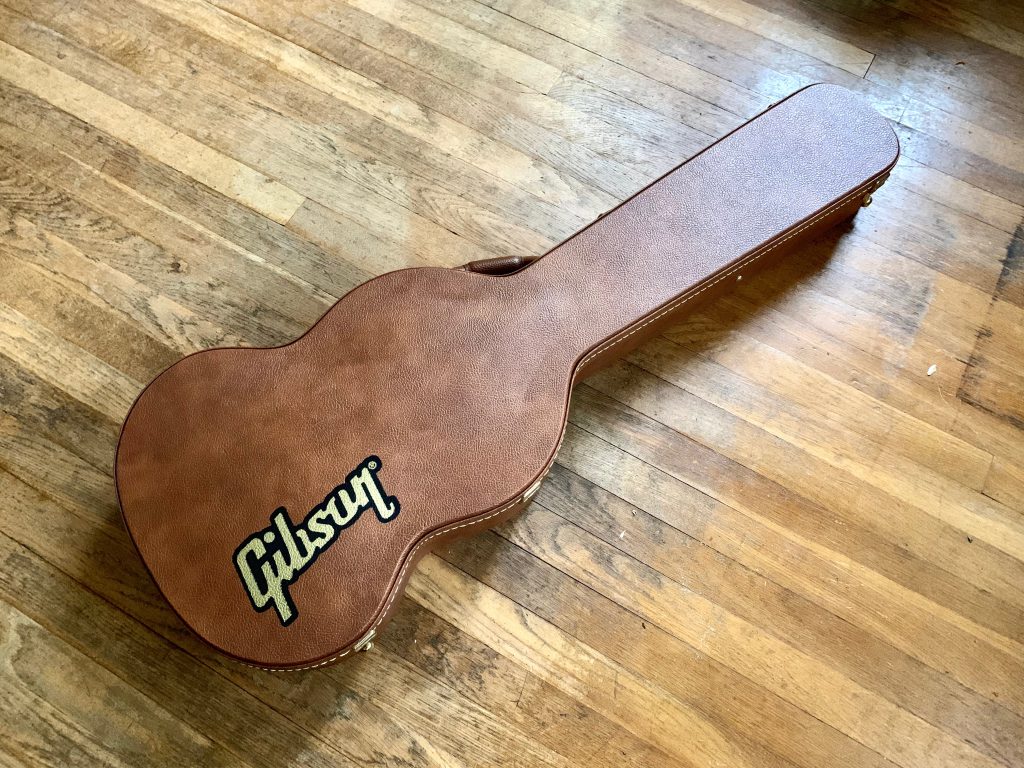 I'll probably end up getting another case for this guitar when I take it to play gigs. I've been reading reviews on the SKB-61 and this case seems like it might protect the guitar better.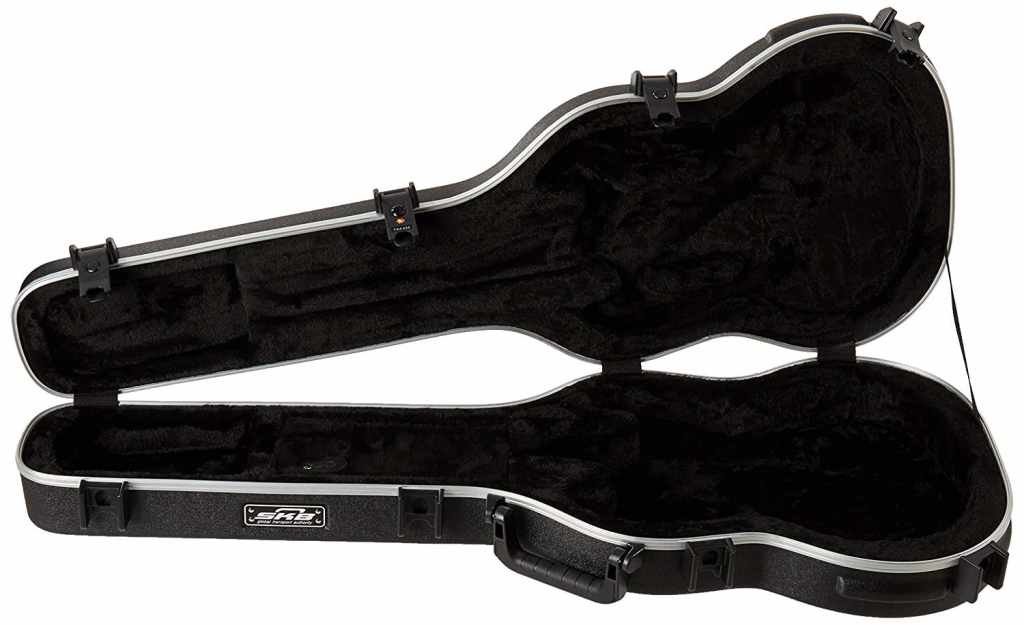 But complaints about the case aside, I LOVE this guitar. It's the sound I've been looking for. Nicely saturated distorted tones with a woody characteristic, and focused, articulate cleans. With separate volume and tone controls for both pickups it's easy to dial up a wide plethora of sounds. I also think it looks amazingly cool. I've always been a fan of how the '61 SG looks, and that makes it even more fun to play.
So does this mean I'm an SG player vs a Les Paul player? Hard to say. I played some of the new 2019 Les Paul Standards and I was blown away by the quality of those as well. If this SG hadn't struck such a chord with me I may have ended up with one of those new Les Pauls. I am still keeping my eye out for the right Les Paul, but I can say that this '61 Standard SG has a permanent home in my guitar collection.