2018 Fender Limited Pro Telecaster H/S Butterscotch
I've been searching for a good Telecaster for a while. I have one that's more of a modern feel, two very high output humbuckers with coil tapping, but it just doesn't really have that Tele sound. It's more of a Tele shaped modern player. So I've been on the hunt for a Telecaster that's got more of a traditional sound.
I've always been intrigued by Tele's that have humbuckers in the neck position, while keeping a single coil in the bridge. So when I saw that Fender released a limited edition Tele Pro with a Shawbucker in the neck, I jumped on the deal.
According to one reviewer on Amazon this is a limited run of only 240 guitars. I have to verify to find out if this is true (if anybody reading this knows, please comment below), but if it is then that makes it an instant collector's item. I don't really collect guitars in that sense, all of mine are "players", but it would be cool to own something so rare.
If you play guitar you know that certain guitars just speak to you. I've bought and sold many guitars over the years, and the only guitars that stay in my collection are ones that I truly bond with. Usually I go to a guitar store and try out guitars for hours before finding something I like, but this one I bought online hoping that it would work out.
When this guitar was delivered I immediately put on a set of Ernie Ball Slinky 10 gauge strings. It came with a set of 9's (unsure of the brand, probably something Fender made) and though they sounded good, I needed to know how it would sound with my strings.
As soon as I played a note after changing out the strings I knew this guitar was special. The clean tone on the bridge was nice and chimey, while the clean tone on the neck was dark and smooth. Perfect and exactly what I hoped it would sound like.
Next I tried some distorted sounds. The neck pickup with the tone rolled back got me super close to a Les Paul sound, while the bridge with the tone rolled back just a bit was a great snarling rock and roll tone. But I really love the in-between position, the combination of the Shawbucker in the neck position with the V-Mod single-coil in the bridge is an amazing tone. This guitar really delivered on the tone it promised, and I instantly bonded with this guitar. This is the first time I've bought a guitar online that I bonded with. As stated earlier, I usually have to spend some significant time in a guitar store before I find an instrument that speaks to me. This one hit it right out of the ballpark, sight unseen.
It looks beautiful too. The butterscotch finish harkens back to Keith Richard's Micawber. That finish combined with the black pickguard, chrome ashtray bridge and compensated brass barrel saddles are a classic combination that looks fantastic.
Speaking of compensated brass barrels, this guitar's intonation is perfect. And the special shape of the ashtray bridge is cut in such a way that my picking hand is very comfortable while strumming or soloing, unlike other Tele's I have played that didn't have the special cut in the ashtray bridge like this one has.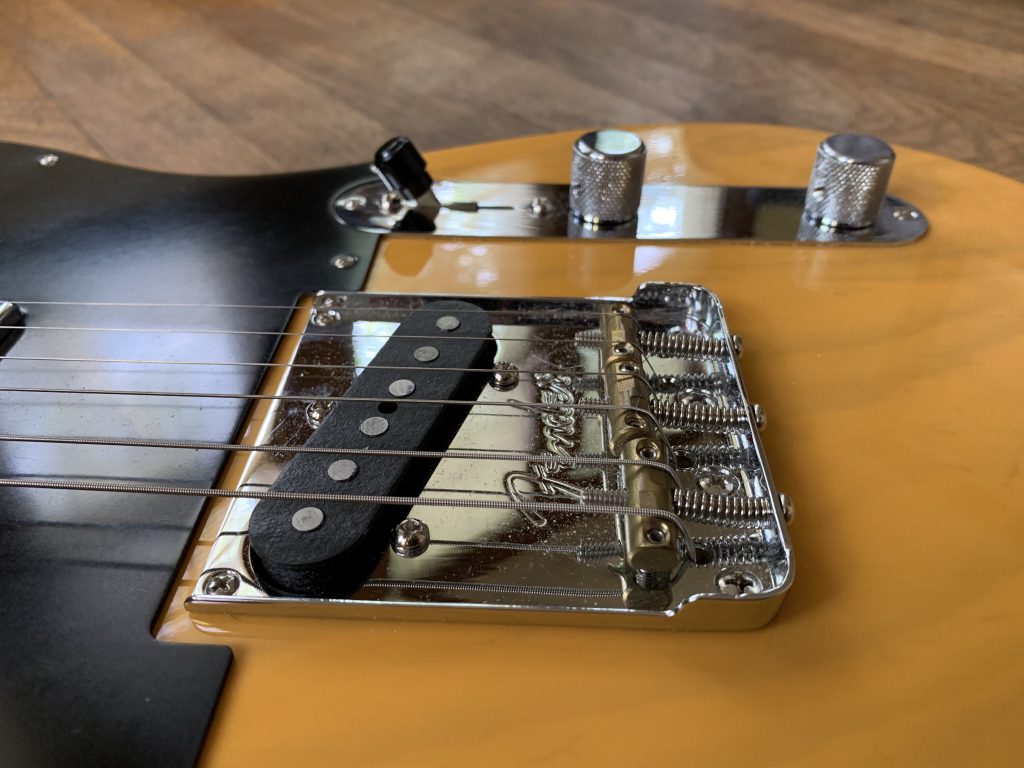 The Shawbucker in the neck and the V-Mod in the bridge not only sound great, but they're balanced really well. I don't have any noticeable volume drop going from the neck to the bridge pickup. And the treble-bleed circuit ensures that I don't lose any of the sparkling highs when I roll the volume back while playing.
It came with a very sturdy Elite molded hardshell case. Even the case is impressive. The guitar fits perfectly and it seems incredible tough and rugged.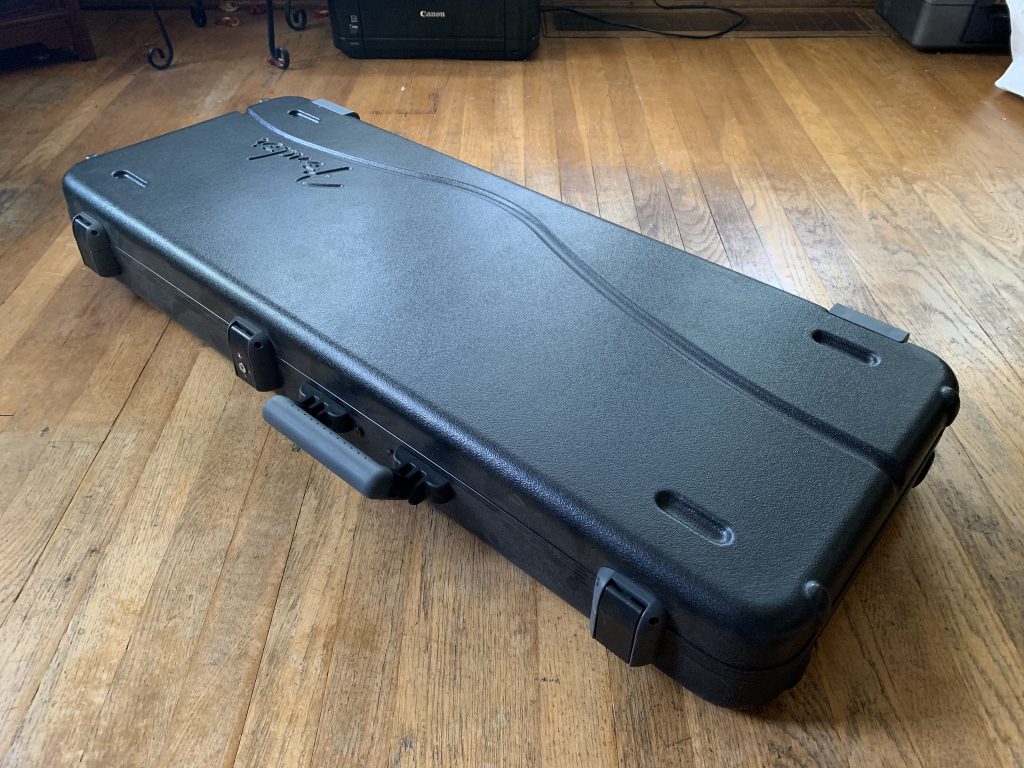 I can honestly say that this guitar has become my number one guitar. I love everything about this guitar. Kudos to Fender on getting this one right. The only thing I would have liked to have seen differently is some more old-fashioned looking tuners, but the modern tuners that are on this guitar do their job well. I can say for sure that this guitar will have a permanent home in my collection.